F.A.Q.
Below some common questions and answers.
Are there order deadlines?
Yes. The order deadline for all customers and products is on Monday at 9:00AM.
What happens if I order after the deadline?
If you place your order after the weekly deadline, you will receive your order the following week.
Do you deliver to my area?
We cover an approximate radius of 30km around Fredericton NB. We cover the majority of eight postal codes, including Oromocto. Some exceptions apply due to distance and remoteness of some areas.
E2V – Oromocto, Burton
E3A – Fredericton, Killarney Road, Penniac, Richibucto, Noonan, Maugerville
E3B – Fredericton, Lincoln, Waasis, Rusagonis, Beaver Dam
E3C – Fredericton, New Maryland, Charters Settlement, Nasonworth
E3E – Hanwell, Mazerolle Settlement, Kingsclear, French Village, Islandview
E3G – Fredericton, McLeod Hill, Royal Road, Douglas
E6C – Durham Bridge, Lower & Upper Durham, Nashwaak Village
E6L – Keswick, Keswick Ridge, Tripp Settlement, Burtts Corner, Sisson Settlement, Zealand
Please refer to the map for more detail on our delivery area and specified delivery day for your area.
What days do you deliver on?
We currently deliver on a two-day schedule for our regular orders. The area is divided into two delivery zones, Fredericton South-East on Tuesday and Fredericton North-West on Wednesday (see map). Having delivery zones reduces our driving area and improves our environmental footprint.
I already have a delivery this week, but I want to order more. Do I have to pay another delivery fee?
If you already have a delivery coming this week, and you want to add more, no problem. In your shopping cart, choose "I already have an open delivery order for this week" and you will not be charged a delivery fee separate from what you may be already paying for your exisitng order.
What is a Standing Order?
You can create a standing order of a Harvest Box, along with addon groceries and items that you wish to have delivered to your door either weekly, every second week, every third week, or every fourth week. It's a convenient way to get your produce direct to your door without worrying about it.
Can I pause, change or cancel my Standing Order?
Yes. You can pause, edit or cancel your standing order at any time before the weekly order deadline.
Can I receive a Harvest Box once a week, but only have an addon item every 2 weeks?
Sure. As you shop, simply choose the delivery frequency you wish for any product. Each delivery frequency you choose creates a separate Standing Order.
I already have a Standing Order. Can I add new items to it?
Absolutely. Shop through our catalogue, choose the Delivery Frequency of your existing Standing Order, then select "Add to existing Standing Order". Your existing order will then show for you to select.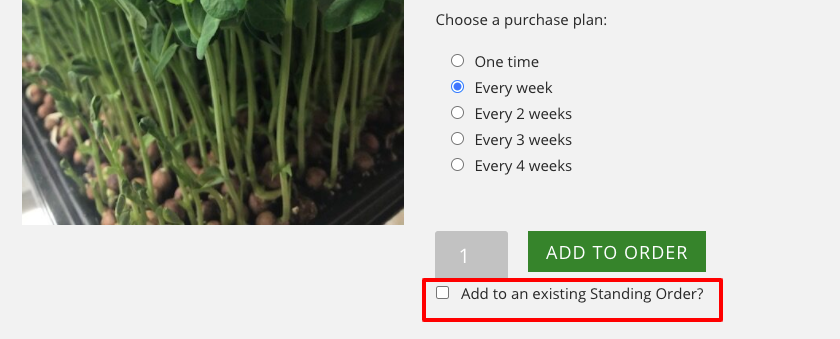 Organic Grocery Delivery in Fredericton
Harvest To Home Organic Delivery is a sustainable grocery delivery service based in Fredericton NB. The core feature of the service is our weekly Harvest Box, which is full of specially selected local and sustainably grown, in-season or organic produce. The Harvest Box is complimented by a selection of healthy grocery items, often grown or produced by small local businesses right here in Fredericton and also around New Brunswick. Our goal is to provide our community with the most affordable, healthy food options that are locally sourced and efficiently delivered.